Varoitus: Tämä kirjoitus sisältää voimakkaan saarnaavaa tekstiä.

Väittämä, jonka mukaan nude-sävyiset kengät tekevät sääristä pitkän näköiset, on todistettu. Samalla iskulla todistui väittämä, jonka mukaan laadukkaat ja kauniit kengät tekevät perusvaatteista koostuvasta asusta mielenkiintoisen, ja saavat halvatkin rievut näyttämään Vaatteilta.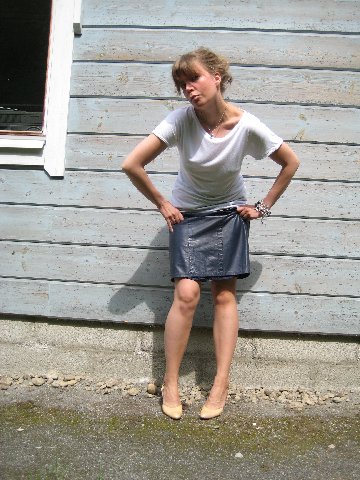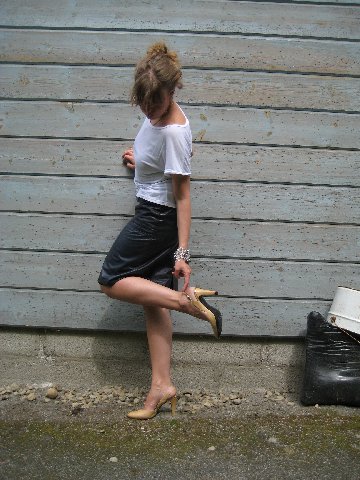 Taskullinen, tummansininen nahkahame - Honey Junkien blogissa mainostamastani äitini nahkahamevarastosta, erittäin pehmeää, erittäin vuosikertaa
T-paita - Lindex
Rannekoru - kaulakoru
Jätesäkkiasetelma - tarkkaan harkittu!

Beiget slingback-korkkarit -Juhani Palmroth, kirppuorilöytö parin vuoden takaa (suvussani on kirppareilta haalittu tätä samaa, kullanvärisellä kantadetaljilla varustettua sarjaa myös nude-nilkkurit ja tummanruskeat saappaat)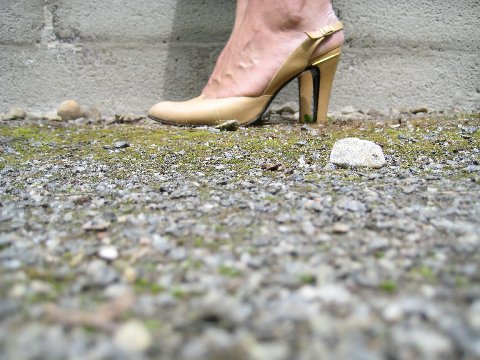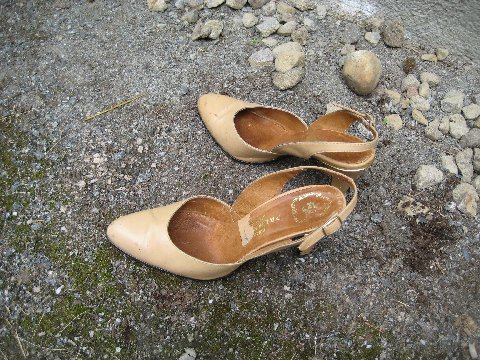 Aika näpsäkän näköiset kulkupelit, eikö? Voin myös kertoa, että ne tuntuvat jalassa kevyiltä ja tukevilta, kuten kengän kuuluukin. Kuvasta näkee, että nämä ovat palvelleet uskollisesti kaikkia omistajiaan menemättä erityisesti miksikään. "Kyllä ennen osattiin, miks tollasia kenkiä ei löydy enää mistään mun tyhmän pikkukaupungin kaupoista?", vai mitä?

Kauniita JA laadukaita kenkiä ei nyky-Suomen peruskaupoista löydy siitä yksinkertaisesta syystä, että me kuluttajat emme niitä vaadi, vaan tyydymme "vähän sinnepäin" elikkäs "ihan kivat" tai "kyllä nää tän kesän menettelee, heitän sitten roskiin" -kenkiin. Siis ihan oma vika. Keinonahkaisia, muovikorkoisia (tiedättehän sen oudosti kiiltelevän ontosti napsahtelevan korkomateriaalin?) designkopiokenkiä myydään kuin leipää ja esitellään "tyyliblogeissa" kuin suuriakin aarteita. Kenkien JA jalkojen ystävän sydän vuotaa verta. Keinonahkainen, polyestervuorinen jalkaan pantava kapistus ei ole mikään kenkä. Hyvä kenkä on paras ystävämme joka tukee elon liukkailla teillä, muotoutuu juuri meidän jalkamme mukaan, jaksaa mukana juhlista arkeen. Hyvä kenkä toki myös vaatii hoivaa ja lepoa. Siksi niitä kuuluu olla useammat käytössä.

Tällaiseen julistukseen on tapana kommentoida, että "mutta kun mä oon opiskelija, niin ei mun budjetilla osteta monen sadan kenkiä. Jos mä rupeen satsaamaan laatuun, niin sittenhän mä en voi ostella joka kuukausi jotain ihanaa".

a) Laatu maksaa, toki, mutta ei aina satoja euroja. Fiksu vähävarainen miettii kenkätarpeensa etukäteen, kartoittaa kaupat, kyttää alennuksia, hyödyntää tehtaanmyymälöitä, jne. Kirpputorit ovat olemassa juuri tätä varten: Kymppi laadukkaista vintagenahkakengistä on aika paljon edullisempi hinta kuin 22,95 marketin muoviskloboista.

b) Voi herranpieksut, miksi ihmeessä pitäisi saada ostella joka kuukausi jotain ihanaa? Tämä täti on elänyt hyvin vähillä rahoilla hyvin suuren osan elämästään (myös juuri parastaikaa), mutta onnistunut silti hankkimaan aikas laadukkaan, luotettavan ja omasta mielestään hiton hyvännäköisen kenkäkokoelman.

c) Säästö halpakenkiä ostettaessa on näennäistä. Otan esimerkin vaatepuolelta: Ostin kuvan t-paidan Lindexiltä noin kympillä. Kuukauden käytön jälkeen paita on nuupahtanut, vaikka olin olevinani tarkkana materiaalin kanssa, ja olen pessyt sitä säädösten ja asetusten määräämällä tavalla. Sen sijaan tämän postauksen viskoositeepaitaa olen pitänyt tarmokkaasti vuoden, eikä tunnu missään. Maksoin paidasta muistaakseni kolmisen kymppiä. Lindex-paita kuluu kuukaudessa, 12 X 10€, Koola Anna kestää ainakin vuoden, 1 X 30€.. you do the math.

d) Nyt joku huomauttaa, ettei kirppareilta löydä kuin roskaa. No ei kai löydäkään, kun jengi ostaa innosta kiljuen joka sesonki Elloksen kuvaston tyhjäksi - ja raijjaa sitten puolen vuoden päästä epäsopivat, kulahtaneet ja muutenkin ihan passé tavaran kirpparille. Tällaisella pelillä ei ole mitään tekemistä kierrätyksen ja ekologisuuden kanssa, se on roskan siirtoa. Stop the madness! Ja kyllä niiltä kirppareilta jotakin löytää, nämäkaikki kengät ovat kirpputorilöytöjä.

e) Keinonahkaiset kengät hiostavat, eivät veny juuri sinun jalkasi mukaan, eikä niiden pintamateriaali yleensä kestä mitään. Jos tarkoituksesi on esimerkiksi tanssia koko yö ja puolikas seuraavaa päivääkin, tarvitset mukautuvan, hyvälestisen kengän - korkoa kyllä voi olla kymmenenkin senttiä, tämä on kantapään kautta todistettua tietoa.

f) Keinonahka haisee hiton pahalle. Itseasiassa jo prujukenkiä myyvät kenkäkaupat haisevat ihan hiton pahalle.

Case closed.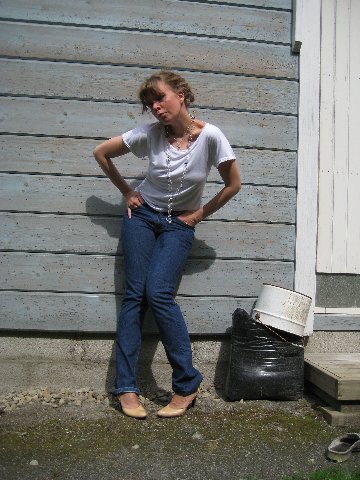 Farkut - ilmeisesti turhaan kaupittelemani Filippa K:t, olenkin pikkuhiljaa lämpiämässä näille ihan itse
Takapuoli - sitä on kuulemma noloa esitellä netissä, voi voi.