En seuraa yö- ja päiväkaudet lempimuoti/tyyliblogeja niinkään löytääkseni sen ihqun pikku hamosen mikä just nyt on saatava, vaan nähdäkseni, mitä tyylikkäät ja ajanmukaiset henkilöt tekevät perusvaatteilla. Ja matkiakseni sitä sitten minkä luontaisilla edellytyksilläni/käteisvarannoillani/olemassaolevalla vaatevarastollani suinkin kykenen!

Nyt asia on (pystyraitainen) miesten paita. Linn ja Karla muiden muassa olivat saaneet minut vihdoin näkemään rennon, mutta slimmin paidan perimmäisen raikkauden ja ihanuuden.




Omaan versiooni pääsi rakkaalta isoisältä perimäni Marimekon Jokapoika, materiaali- ja mallitutkimukset ajoittavat tämän seitkytluvulle: Sävyt ovat pehmeämmät kuin uudemmissa, malli kapeampi ja kangas miljoona kertaa parempaa - tämä päällä mä olen kärrännyt hevosenkakkaa ja äitini on rakentanut puoli kesämökkiä. Toistuvat pesut ovat vain pehmentäneet kankaan ja värin just sopiviksi. (Mulla on tästä rusehtavampikin versio, siitä tuonnempana.) Löydettyäni aarteeni uudestaan, oli pakko päästä heti kokeilemaan, joten vähän turhan puuvillaisen parivaljakon toisena osapuolena esiintyy H&M:n korkeavyötäröinen hame. Materiaali saisi olla jotain enemmän paidasta poikkeavaa, mutta mallista tykkään - etenkin kun sen kiskoo kädet taskuissa rennommaksi!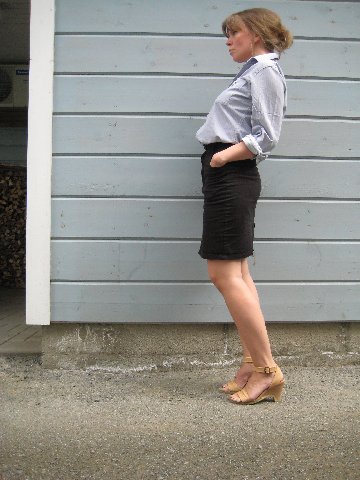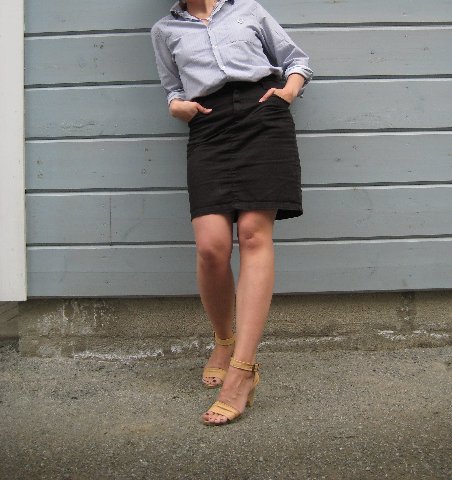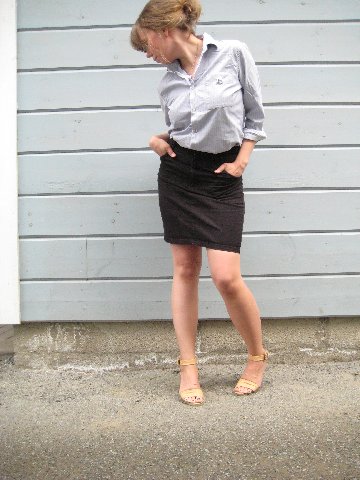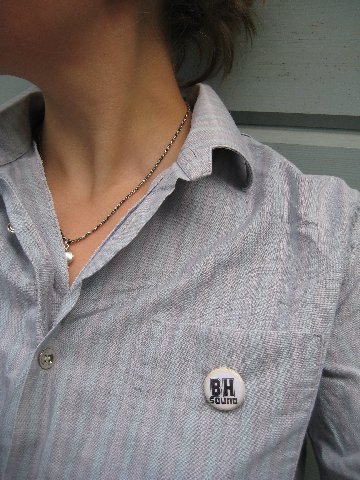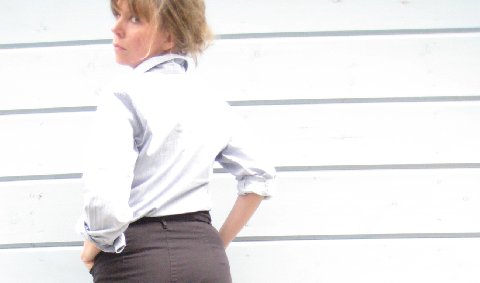 Paita - Vuosikerta- Marimekko Jokapoika
Hame - H&M, puuvillastretchjotain
Kengät - Bronx
Badge - BH Sound

Tässä paidassa päästään Bellen ja Sebastianin arvoisiin heppatunnelmiin:

"With a star upon your shoulder lighting up the path that you walk
With a parrot on your shoulder, saying everything when you talk
If you're ever feeling blue
Then write another song about your dream of horses
Write a song about your dream of horses
Call it Judy And The Dream Of Horses
Call it Judy And The Dream Of Horses
You dream of horses"