Myös nämä muiden bloggaamat jutut inspiroi mua nyt:
ORANSSI
Hehkutin jo Ann Demeulemeesterin oranssia kevättä, väri toimii myös Lululla:
Koko Chictopiasta ja Everybody is Ugly -blogista tutun Lulun (ja sun mutsin) uusi ja mun mielestä entisiä parempi blogi on täynnä kaikkea innostavaa ja just hyvää asennetta. Kiitos Honey Junkie kun vinkkasit tästä!
Tämä kuva inspiroi mua tekemään väljän valkoisen teepaidan olkapäille jotain, esim. leikkaamaan niihin pystysuunnassa viiltoja:

Seuraavien kuvien poijjaat taas liittyvät Tärkeän Henkilön kanssa käytyyn keskusteluun miesten pukeutumisesta. TH ei (enkä oikein mäkään) osaa innostua esim. muotilehtien mieskuvista, joissa kundi "vaan postaa hassuissa vaatteissa", vahvan alakulttuuritaustan omaava henkilö haluaa, että se mitä heppu "on" eli "tekee" näkyy siitä. Tää on nyt vähän huonosti selitetty, mutta esmes monet mun fanittamani miehet ovat skeittitaustaisia, ja se näkyy edelleen, vaikka ne nyt olis valokuvaajia, stailisteja tai Nokian insinöörejä. Ja sellainen mieshän mä haluisin olla itsekin.
Nämä Lulun (ja alunperin ehkä Sartorialistin) esiinnostamat kundit näyttävät siltä, että niillä on jotain omaa mitä ne tekee. Ainakin kiinnostus muotiin, ja se riittää: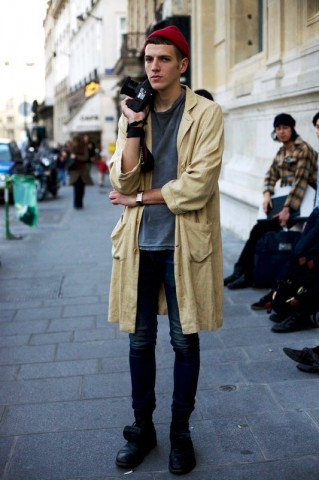 Lulun ja You feelin' it -blogin Petran innoittamana ajattelin kääriä kaksi numeroa liian isojen housujen lahkeet ja iloita big ass lookista.
Jengi hehkuttaa kevään läpinäkyvää meininkiä ja onhan se sifonki ihanaa, mutta mulle usein liian nättiä. Luojan kiitos Kingdom Of Stylen Queen Michelle näyttää, miten söpö mekko puetaan with an edge. Nyt harmittaa, että olen heittänyt pois helmikirjaillut söpismekot. Tarvinnee kirppareilta koluta uusi.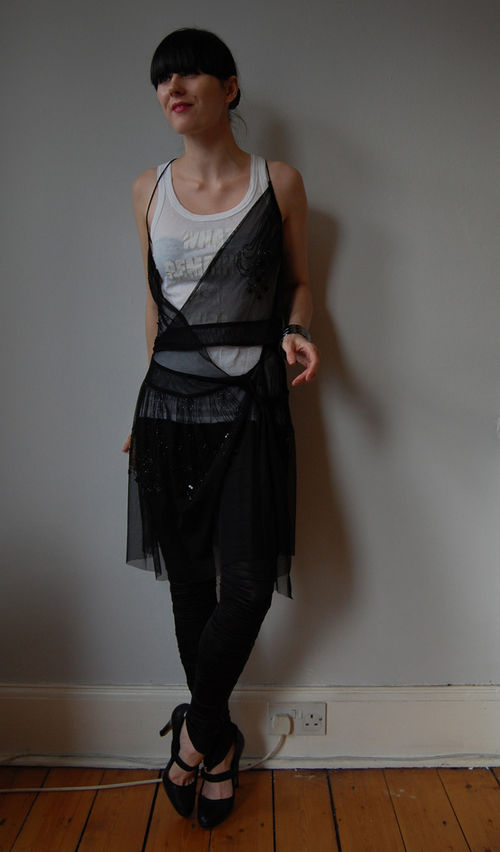 Omasta dekonstruoitavien pinosta löytyi vielä yksi harmaa teeppari, samanlainen jonka turmelin Annalle, haluux joku teistä meikäläisen viiltelemän one of a kind paidan häh?
Odotettavissa oleva tulos näyttää ehkä tältä:
Perustin taannoin ystäväni L:n kanssa taajaan designkollektiiveja, yhden nimi ainakin oli Punk Ass productions... Sittemmin mun kuvitteellisten merkkien nimenä on ollut mm. The revolution is my boyfriend, joka tulee RAF:iin viittailevan taidehomopornoelokuvan repliikistä (ei kannata ees kysyä). Nyt mä voisin viillellä joka tammikuu luukuttamani yhtyeen varhaistuotantoon viittaavalla nimellä Slash and Burn, tai sitten yksinkertaisesti Culture, Alienation, Boredom and Despair:
ps. Tein sen, tilasin ELLOKSELTA KENGÄT! Nahkaa, alesta ja kuvan perusteella lupaavan kreisit. I'll keep you posted on this. (seuraavaks varmnaan juon sit sen "pullon kossua, siitä tulee känniin se on niin hassua". MIKSI mä osaan ulkoa aika paljon Klamydiaa.)