Tällä viikolla inspiroi:
1) Tanssivat pojat (kuva Sartorialist)
2) Housuissa ja shortseissa viihtyvät naiset (kuvat Sea of Shoes, Garance Doré, Sart ja Altamira NYC)
3) Janice Dickinson kertomassa, kuinka upeita suomalaiset naiset on ja kuinka ylpeitä meidän pitäisi olla
4) Pintaa-blogin raportti TAIKin muotinäytöksestä ja samassa show'ssa nähdyt, Wunder-liikkeeseen myyntiin tulleet, Markku Rudangon käsintehdyt Puutsit. (kuva Wunder Shopin blogista!)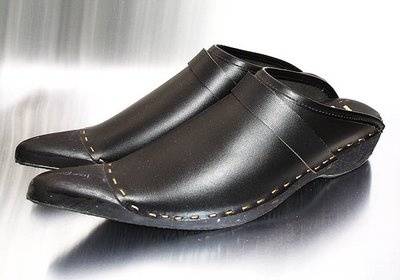 5) Ja kaikista eniten Sonic Youthin The Eternal -albumi, jonka voi kuunnella kokonaan esim. täällä, ja ostaa esim. Stupidosta erityisvinyylinä!
Mikäs teittiänne innostaa?
This week, I'm all about boys in dance gear, ladies in trousers and shorts, Janice Dickinson shouting about how wonderful we Finns are, the graduates' fashion show at Helsinki University of Design (or whatever the hell it is called), fabulous handmade shoes/boots/thingies by Markku Rudanko, available at Wunder Shop in Helsinki, and most of all, Sonic Youth's The Eternal. Now you tell me, what puts a smile on your face?