Sarjassamme "Do It Yourself (or die trying)"

1. Viillelty t-paita

Toisen luomukseni tällä jalolla saralla saa omakseen rakas ystäväni ja kommentaattorini ANNA! Toivottavasti tykkäät yhtä paljon kuin mää itte.




2. Lyhennetty nahkahame

Päätin rohjeta ja lyhentää aikaisemmin polvipituisena esittelemäni Nahka-Asun hameen, alkuperäinen pituus ei vain ollut mulle suotuisin*.

Siihen tarvittiin malliksi HM-hame, saksia, liimaa, Gloriaa ja kaljaa. Lopputulos on just eikä melkein! (Hameen vuori tosin tarvii vielä huolitella)





*Jauhoin viime keväällä pukeutumissäännöistäni. Kohdan "Tunne itsesi JA MITTASUHTEESI" merkitys vain korostuu, mitä enemmän näitä pukeutumisjuttuja kelaa. Mä kehotan lämpimästi kaikkia tutustumaan kroppaansa, oikein peilin ja peräti mittanauhan kera!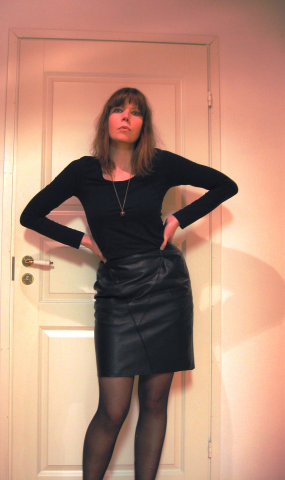 Inhoan edelleen naistelehtiyleistyksiä "Y-vartaloinen nainen pukeutuu näin", me olemme kaikki niiiiin erilaisia mittasuhteinemme, mutta jotain vinkkiä toki kannattaa pukeutumisneuvojilta ottaa. Erimalliset vain ovat parhaimmillaan erimallisissa vaatteissa, kokonumero an sich ei kerro vielä mitään vaatteen sopivuudesta juuri minulle/sinulle/Hentun Liisalle.




Koska painoni on pudonnut viime aikoina reilusti, olen ottanut asiakseni perehtyä tähän mun nykyiseen (ja toivottavasti pysyvään, sen verran hyvältä tuntuu) vartalooni (periaatteessahan ne mittasuhteet on aina samat lihakerroksien määrästä huolimatta, mutta esim. vyötärö mulla on vasta nyt. Ja se on ihan hiton korkeella!). Tää onnistuu helpoiten pukeutumalla mustiin sukkahousuihin ja mustaan pitkähihaiseen trikoopaitaan ja asettumalla hyvin valaistun kokovartalopeilin eteen! Kannattaa mitata vyötärö ja tarkkailla, missä se just sulla on. Ovatko hartiat leveämmät kuin lantio, onko rintalastan ja lonkkaluun välillä paljon tilaa, vai oletko ns. short waisted kuten meikä.

Jokaisella meistä on ihanat puolemme, itseasiassa mä oon päättänyt, ettei vartalossani ole vikoja, on vain ominaisuuksia, pitää vain päättää, mitä niistä haluaa korostaa!

Tässä puuhastelussa voi saada apua esim. Trinnyltä ja Susannahilta, tosin kannattaa muistaa, ettei heidänkään puheensa jumalansanaa ole, ja siinä väluittyy vahvasti molempien omat vartalokompleksit ja -preferenssit. Muutenkin toi tyyli on kovin ongelmakeskeistä. Mutta ihan lukemisen arvoinen on tämä "Defining your shape" -osio. Nyt en enää löydä sitä osiota, mut jokatapauksessa mää määrittelin itseni jäätelötötterön malliseksi, lähinnä siksi että sellaisilla on lupa kietoutua haastavan mallisiin juttuihin...

Joka tapauksessa, mun mielestä maksaa vaivan määritellä tarpeensa, vaikka sen täydellisen hameen löytäminen olisi vaikeaa. Mulla on vyötärö korkealla, ja mä haluan näyttää sen. Pitääkseni siluetin sutjakkaana, mun hameen täytyy olla kapea lanteilta, eikä se missään tapauksessa saa levetä alaspäin. Sit sen pinnassa pitäisi olla vielä jotain actionia... Mulla on voimakkaat sääret, jos niitä peittää liikaa, muutun alapainoiseksi maatuskaksi. Käytän aina korkoja, joten helma ei saa paljastaa liikaa reittä. Tukevat sääret vaativat tukevat korot näytääkseen linjakkailta.




Vertailun vuoksi kokeilin kymmenisen senttiä lyhyemmän ja rutkasti siroluisemman äitini a-linjaista hametta ja sirokorkoisia nilkkureita, eihän tästä mitään tulisi:




On tää jännää!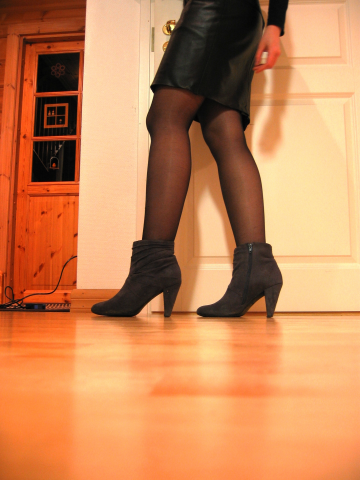 3. Klooratut farkut

Mä siis eka spreijasin nää lötkähtäneet Cheap Mondayt mustalla maalilla (meillä kun harrastetaan sitä katutaidetta.......), paitsi että toisen puntin takaosaan ei riittänyt. Unohdin ne puoleksi vuodeksi, ja nyt iskin kloriittikylpyyn. Tuloksena selkeetä vaatetaidetta.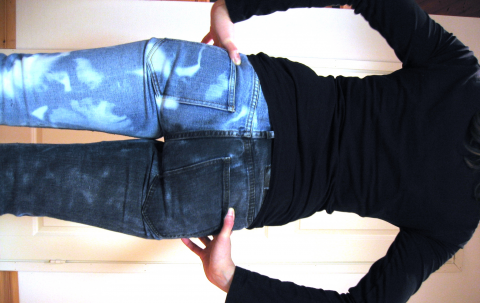 Ainoa kiva puoli tässä Vuodatus-uusinnassa (mä en esim. näe esikatselussa kuvia, "kiitti") on mahdollisuus laittaa postaus useamman kategorian alle. Niinpä loin tohon vanhojen tuttujen rinnalle tällaset body image -asioita pohtivan (Self-disgust is self-obsession honey and I do as I please) ja näihin tee itse -projekteihin viittaavan (...rip her to shreds). Laittelen varmaan aiempiakin tekstejä näihin lohkoihin ajan kanssa!