Tyyliaakkoset senkun jatkuu.

H on

Haider Ackerman

Suhteellisen tuore, mutta sitäkin tulisempi ihastus. En saa tarpeekseni kuluvan talven harmaista poimutuksista ja nahka-asioista, ja kevät lupaa aina vaan parempaa.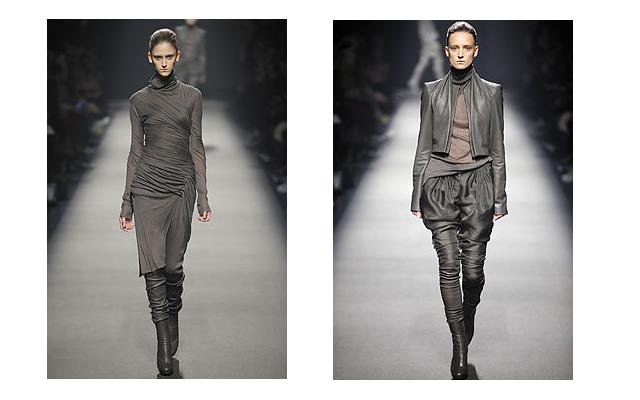 (Kuvat alunperin style.com)

Harmaa

ja hopea. Harmaa on mulle valoisa, kaunis, luonteva ja salliva väri.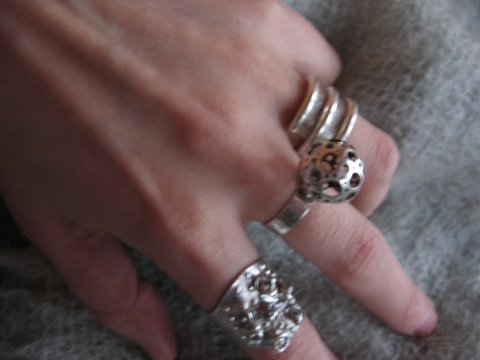 Hip Hop

eri elementteineen. Ja juu, tälläKIN alalla olen diletantti/ysärijumittaja pahinta laatua.

I on

i-D

Ensimmäinen ja yhä oleellisin moderni tyylilehti (The Face oli hyvä kilpailija niin kauan kuin jaksoi). Idarista katsottiin katutyyliä ennen katutyylisivustoja. Sieltä on peräisin mun vankka käsitys, että ainoa mahdollinen otsake muotijutulle on puolikryptinen lainaus (mieluiten Morrisseyn) laululyriikoista.

Indie

Brittiläisperäisen, kitaravetoisen mutta jotenkin edes vähän yllättävän muniinpuhaltelumusiikin lisäksi tämä on sellainen jonkinlainen kokonaisvaltainen asennoitumistapa, jonka huomaa parhaiten kun se puuttuu.

J on

japanilaisavantgarde

Tällä viittaan siihen 80-luvulta lähtien vaikuttanutta suunnittelija-aaltoa, jotka leikkaavat omituisesti, mutta toimivasti. Rei Kawakubo, Issey Miyake, Junya Watanabe, keitä niitä nyt onkaan. Onneksi tämä vaikutus näkyy taas vahvana, omaa silmääni viehättää vuosi vuodelta enemmän "tavallisen" siluetin haastavat jutut.
Japanilaishenkeä on Irja Leimun Pentikille suunnittelemassa välikausitakissanikin.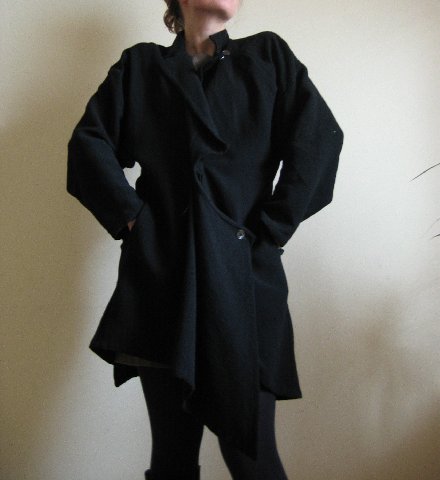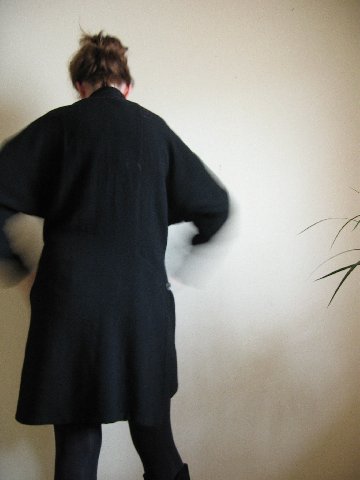 Jürgen Teller

ja Corinne Day ovat muokanneet vahvimmin käsitystäni siitä, millainen on kaunis (muoti)kuva.


K on

Kate Moss

Katen ja muiden waifien astuminen kuviin ja lavoille keskelle 80-90 -luvun vaihteen ylivoimaisen upeita supermalleja oli teinirimpulalle vapauttava kokemus. Katessa on kaikkien käänteiden jälkeen säilynyt jokin salaperäinen freesiys ja leikkimielisyys, niinkuin monessa muussakin mulle rakkaassa 70-luvun puolivälissä syntyneessä naisessa. Ihanimmillaan Kate on ollut i-D:n ja muiden brittilehtien sivuilla, Tellerin ja Dayn kuvaamana.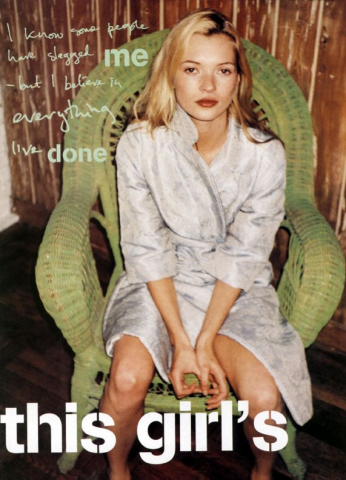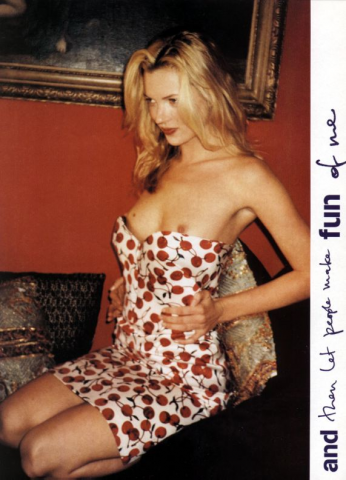 Karl Lagerfeld

Ylimielinen kusipää, joka tietää taiteesta, muodista, historiasta, ja uusimmasta musiikista kaiken, ja antaa sen näkyä kokoelmissaan. Rakastan. (Ja sedän haastattelut ovat parasta, "I hate short people" se kerran julisti i-D:ssä.)

Kengät

Niiden suhteen olen fanaattinen. Toisin kuin monen kenkäfriikiksi julistautujan mielestä, mulle määrä ei korvaa laatua. Olen ylpeä taidostani löytää kauniita ja mukavia (kulkevat AINA käsi kädessä) kenkiä kirppareiden pölyisimmistä nurkista.

Haaveilen yllättävän paljon Vivienne Westwoodin klassisista merirosvosaappaista, ja taidan tyytyäkin haaveilemaan, näistä en huoli kopioita enkä edes "inspiroituneita" versioita.
(kuva täältä)
Kingdom of Style
Kuten on tullut mainittua, palvon kuningatar Michelleä ja yritän ottaa oppia hänen DIY-asenteestaan ja kyvystä nähdä kirppisvaatteiden monet mahdollisuudet sekä ottaa trendit haltuun. Nyt inspaa tämä tapa käyttää porkkanapöksyjä:
(kuva KoS)
L on

Lautailu

Huolimatta siitä, etten pysy kunnialla minkäänlaisen laudan päällä, ihailen ja analysoin rulla-, laine- ja lumilautailijoiden eleganttia rentoutta näköjään loputtomiin. (Tärkeä Henkilö on tosin luvannut opettaa mut lumilautailemaan, tämä on siis testamenttini Suomen kansalle.)


(kuva jälleen kerran Epicly Later'dista pihnitty)

M

Miuccia Prada

Ei yksittäiset vaatekappaleet saati kassit, vaan älyllinen prosessi, jota pradamainen lähestyminen muotiin parhaimmillaan on. Miuccia tutkii teknologioita ja yhteiskunnallisia virtauksia pukeutumisen kautta, ja myy samalla aika helkkaristi. Lempilainaukseni on naisen vastaus kysymykseen, mistä muutaman vuoden takaisessa kokoelmassa oli kyse: "I'm tired of being so sweet. We women should go back to strength—and the sober side. Stop trying to appeal to everyone, and go out into the world."

Manic Street Preachers

Ennen vuotta 1996. Anarkistinen glam-punk-riikinkukkoilu. Sitäpaitsi Mänixien eli Mannareiden lyriikoista saa parhaat blogipostausten otsikot.


N on

Nahka
Ylittämätön materiaali kengissä, laukuissa ja näköjään myös housuissa!
Nahan tuotanto ei ole ongelmatonta - kuluttajana musta olis kivaa, jos valmistajat kertoisivat nahan alkuperän ja voisin varmistua siitä, että tuotantoeläintä on kohdeltu säällisesti. Onhan meillä vapaan kanan munia ja luomulihaa, ja moni valmistaja kertoo, mistä merinovillansa ovat hankkineet, tulevaisuudessa "eettinen" nahkatuotanto tulee varmaan nousemaan vahvemmin brändinrakennusaineeksi.
Missään tapauksessa öljypohjaisten korvikeainesten tuotanto ja tekonahan suosiminen EI ole "kind to animals", vaikkei siinä söpö karvainen pallero suoranaisesti nahkaansa joudukaan luovuttamaan.
Nico
Jääsfinksistä olen runoillut pitkäänkin, toteanpahan kuitenkin, että vuosi vuodelta viittaan kietoutunut, isoluinen, otsatukan alta kolkosti tuijottava olemus kiinnostaa enemmän. Onneksi en ole pakkomielteineni yksin, vaan lempisuunnittelijani vastaavat sesonki sesongin perään kysymykseen: "What Would Nico Wear?"