Tasapainoittaakseni viimeaikaista poikien tulvaa blogissani, poimitaan tällä kertaa kuvia hauskan näköisistä naisista. Muistellaan myös Vice-lehden reilun vuoden takaista The Girls Issueta, josta löytyy kaiken muun mahtavan ohella lempparitoimittajieni Amy Kellnerin ja Lesley Arfinin laatima aakkosellinen "The Vice Guide to Girls".

Mikäänhän ei ole ihanampaa ja etten sanois voimaannuttavampaa kuin tyttöjen välinen ystävyys. Sen kunniaksi lainaan artikkelista kokonaan kohdan Y = YOU! (Mut lukekaa se koko listakin, bubbling underit myös!)

"You are a girl! You are a gift, a rainbow, a ray of sunlight and a fresh summer breeze. You give life and eat forbidden apples with pride and determination. You are beautiful and don't ever let anyone tell you otherwise. As a girl there are a few simple commandments. One of them is that jealousy kills girl-love, so the next time you and a bunch of your girlfriends gang up against another girl and make her cry because she hooked up with your ex, just remember that it's really not cool to do that! You don't even care about Kevin anyway, YOU dumped HIM! Another thing to remember is, "Beer before liquor, never been sicker. Liquor before beer, you're in the clear." Sitting on the sidewalk while Mandy holds your hair back while you puke is not a good look!

In all seriousness though, you are a girl so you should be siked. Give your man a great idea and don't be surprised when he turns to his friends and says, "Hey man, why don't you listen to my great idea?" Since you're a girl you won't mind because that's how we roll. Do you think Yoko cared when she told John Lennon about peace and he acted like he invented the damn thing? No, she didn't. You're smart. You don't need to prove yourself to anyone. You know the truth, so stop acting like you don't already. It's giving the rest of us a bad rep.

Honorable mentions: Yoko Ono, yeast infections, yogurt "




(Käärittyhihainen bleiseri ja hiihtarit, tätä kokeilen kotona!)




(Tästä voin kopioida... no ainakin hupputakin ja hymyn!)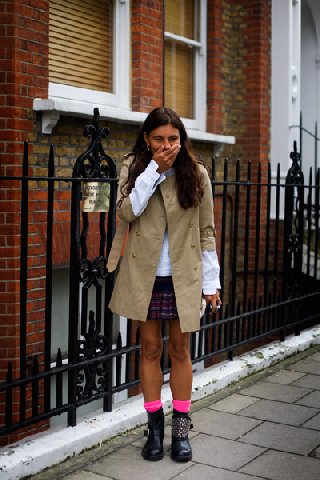 (Neonsukilla iloa elämään? Harkitsemisen arvoista.)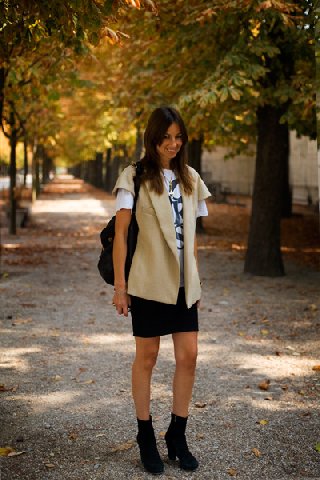 (Taitavat pukeutujat saavat niinkin pösilön vaatekappaleen kuin hihaton bleiseri näyttämään harkitsemisen arvoiselta. Kiinnittäkäämme huomiota syvään v-kaula-aukkoon, joka takaa naisellisen istuvuuden! Ja jääkäämme odottamaan Tärkeän Henkilön lupailemaa itte maalattujen taideteepaitojen kokoelmaa "syssymmällä". Niin ja sieltä hehkuttamastani Turnover-liikkeestä sais vähän tollaset nilkkuritkin...)

(Kuvat Sartorialist at style.com ja Garance Doré)