Paljon, muttei vielä lainkaan riittävästi hehkuttamani farkkuliivi piti saada heti kuviin. Hellepäivinä sisäinen stailaajanikin oli kadoksissa, mutta eiköhän tätä tulla vielä näkemään harkitummissakin kokonaisuuksissa.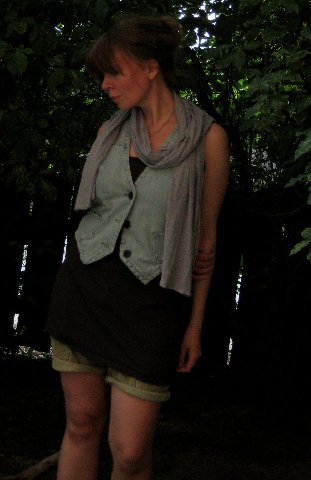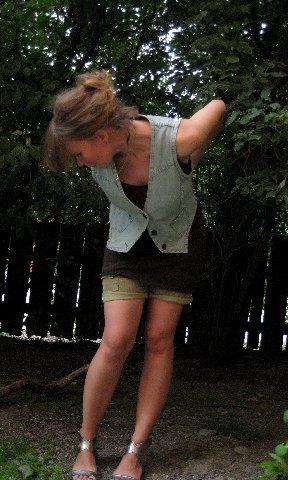 Liivi - Tiger Of Sweden, Huutonetistä
Toppia näyttelevä armeijanvihreä alusmekko - Turnover
Shortsit - Leikattu Pariisista ikuisuus sitten ostetuista ihanan pehmeiksi kankaaltaan ja väriltään haaltuneista vakosametti-cargo-pökistä, Bambin postaamienEva Herzigova -kuvien innoittamana
Huivi - harmaa puuvillatrikooriepu H&M, kesä 06?
Sandaalit - Turnover

Näistäkin kuvista näkee, että väripalettini on nykyään kovin maanläheinen. Koska termi maanläheinen aiheuttaa minulle okranvärisiä pahoinvointikohtauksia, väitän mieluummin innoittuvanani sorasta, joutomaasta ja roskapönttöjen kyljistä.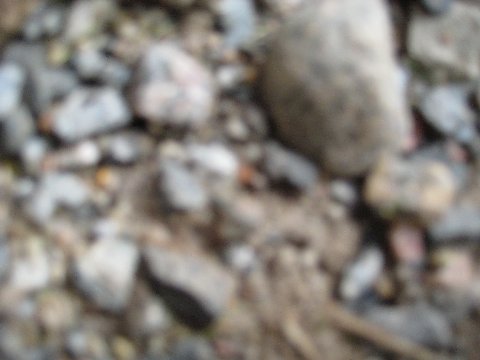 Helteiden lakattua tältä erää ja kesäsään palauduttua tutuksi tulleeseen skitsofreeniseen kaavaansa, musiikillista innostusta sopii tuomaan The Verve vuodelta 1993, jolloin iki-ihanan laulajan lempinimi "Mad Richard" ei ollut aivan tuulesta temmattu.