for all yesterday's parties?
"A blackened shroud, a hand-me-down gown
Of rags and silks, a costume
Fit for one who sits and cries
For all tomorrows parties"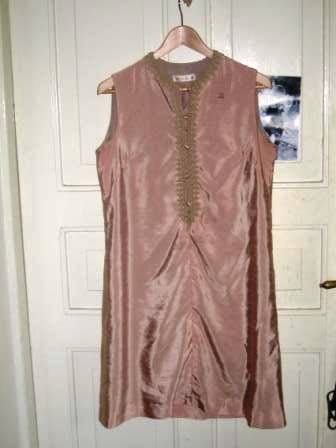 Mekko merkkiä Kaunotar, silkinomaista ainetta, onneksi kestää konepesun. Kaulaa ympäröi kellertävä brodyyri.
Ostettu Tampereen UFFistä ehkä talvella -97, otettu käyttöön keväällä 2007.
Opetus: Hyvä vaate kannattaa aina ostaa, vaikkei käyttöä heti olisikaan.
Jalassa tylsät leggingsit, ja korkokengät, joita ei nyt voi kuvata, kun toisen remmi halkesi (ja paikattiin maalarinteipillä). Hyvin ne olivat 70-luvulta saakka kestäneetkin.