Otsikon lainaus on Miuccia Pradalta, jota pyydettiin kuvailemaan syksytalven 07-08 –mallistoa. Kertoo style.com.
Tämä taas on muotiin, vaatteisiin, kenkiin, pukeutumiseen, pukeutumiskulttuuriin ja sanoinko jo kenkiin intohimoisesti keskittyvä blogi. Musiikista, elokuvista, kirjallisuudesta ja niinku yleisemmin taiteesta tulee väistämättä myös puhe, muoti tai pukeutuminen kun melkein aina ammentaa niistä (tai muut taiteet ammentaa siitä?).
Kirjoittaja on kolmekymppinen, henkilökohtaista tyyliään etsivä, jotain jo löytänyt nainen.
Kirjoittaja on myös pirun köyhä kolmikymppiseksi naiseksi, joten lukijat eivät pääse kovin usein ihmettelemään de luxe –ostoslistoja tai shoppausmatkoja Pariisi-Milanoon. Vitosella löydetyistä pakasta vedetyistä violeteista, kukkakoristelluista mokkaisista Juhani Palmroth –piikkikorkosandaaleista kyllä lupaan jauhaa. Eikä krooninen persaukisuus estä kirjoittajaa lausumasta kiveenhakattuja tuomioitaan nykyhuippumuodin tilasta ja Suuren maailman muotiviikoista.
Kirjoittaja pyrkii välttämään päiväkirjailua, suurten totuuksien lausumista Elämästä ja miesasioista vikisemistä, vaikka siihenhän se helposti pikkutunneilla lipsahtaa. Politiikkaa ei voi eikä pidä vältellä, vaatteet on aatteita.
Kirjoittajaa kiinnostavat tyyli-ikonit, varmaan melkein kyllästyttävän samat kuin muitakin kolmekymppisiä popkulttuuriin kasvaneita naisia ympäri pallon. Kaikkihan emuloi Anita Pallenbergin tai Kim Gordonin tyyliä, n'est-ce pas? Ai eikö muka? Toisaalta ne lähipiirin omaa tyyliään elävät naiset, omanikäiset, vanhemmat ja nuoremmat (Holla, meidän äiti ja Iltapäivän Anu ja siistit vielä tuntemattomat kadullakävelijät!).
Silmänsä ja muut aistimet auki pitämällä kirjoittaja toivoo hartaasti kehittyvänsä ajan mittaan tyylinsä tuntevaksi vanhaksi hilpeäksi naiseksi.
Pinta on vakavaa ja pukeutuminen viestimistä, mutta jottei menisi liian ankeeksi, niin peräkaneetiksi muotimaailman johtavana intellektuellina (varmaan monen mielestä varsinainen oksymorooni) pidetyn Miuccia Pradan viisastelua viimeisimmiltä Pariisin prét-à-porter –hulinoilta:
"Meaning, schmeaning, says Miuccia. As the anxious hordes pressed backstage for an intellectual coda from the oracle, she gave them a friendly Italian laugh. "Eh! The only thing I could think of was to work on color and materials," she shrugged. "Something simple but strange.""
* This week, I have been mostly  wearing: nuupahtaneet pillifarkut, räjähtäneet topit ja jotkut kengät mamman ehtymättömästä varastosta: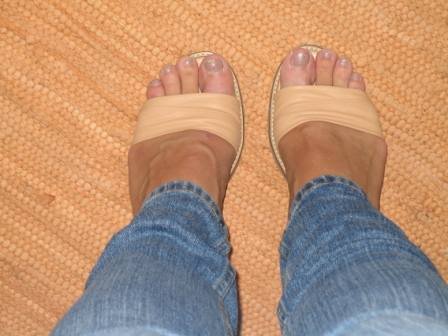 * Syyskauden puvustoni innoittaja: Nico levynsä Marble Index -kannessa (samoin kuin viimeiset 11 syksyä)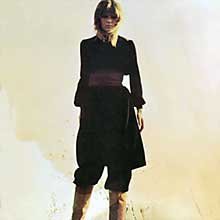 * Viikon Coco Chanel -lainaus: "A girl should be two things: classy and fabulous."
Mitä tohonkaan nyt sitten voi vastaan sanoa.