Huonovointisuuden vuoksi jouduin sanomaan kiitos ei illan synttärijuhlille (iso harmi, kunnon kotibileet on tässä iässä harvinaisempia kuin teini-ihastukset, paljon harvinaisempia). Hieman elvyttyäni purin harmistukseni mihinkäs muuhun kuin vaatehuoltoon. Ihminen voi todella kiintyä elottomiin esineisiin, minä ainakin rakastan palavasti äitini pyykinkuivauskojetta.
Onni on vastasilitetty silkkihuivi. Kuvan Hermès(!!!)-eksemplaari on paksua silkkiä (tehty aitous- eli sytkäritesti), musta-luonnonvalkoinen, sanoo että "Arcs-en-ciel" (jotain taivaasta ja kaarista, non?), joku signeerauskin siinä leikisti on, ja maksoi yhdellä hyväntekeväisyyskirpparilla muistaakseni kolme egee. Sitä rohkenen kutsua löydöksi ja klassikoksi.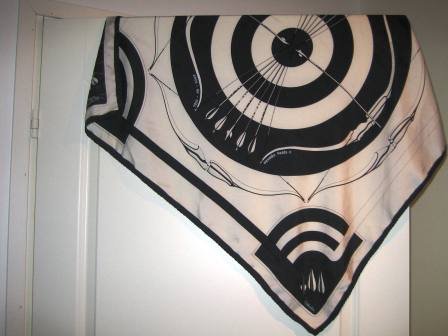 Parhaimmillaan se tällä hetkellä tuntuisi olevan yhdistettynä Bisquit Stashista tilaamaani Married to the Mob -teepaitaan.
Näissä katutyylikkäissä merkeissä olen katsellut The Knifen Heartbeats-videota ja ajatellut että huomenna on paremmin!